Salah Ben Sayad is a young man who grew up amid an intellectually and morally decadent society. As a narcissistic personality, he is after fame and glory. He wants women to admire him and history to retain his name. After hitting many hurdles that prevent him from getting what he wants, he finds that the only way forward is becoming a dictator. The events of the Salah Ben Sayad story on his path toward fame and glory then unfold as satire, comedy, through which the director addressed a number of social ills, such as intergenerational struggle represented in the constant frictions between the hero and his father, Menaouar Ben Sayad, in addition to the super ego complex that dominates the minds of many, from decision makers to simple citizens.
In addition to "Salah", the comedian played many other characters on the stage during his show, among which were former political figures, an artistic reference that the director wanted to be identical to the events the country witnessed in recent years.
This one man show, "The Dictator", by director and scriptwriter Ahmed Rezzag, interpreted by Chaker Boulemdaïs, is an adaptation of the novel "The Hero" by Ihsane Abd El Kouddous. Produced by the Chamâa association, it took place at the Mohamed Tahar Fergani regional theater in Constantine.
The first version of the show was produced in 2018. It was shown one time only at the "Casino" communal theater in Algiers before being canceled for reasons believed to be political (the authorities at the time did not like it). "The Dictator" then came to the stage again through the Constantine regional theater.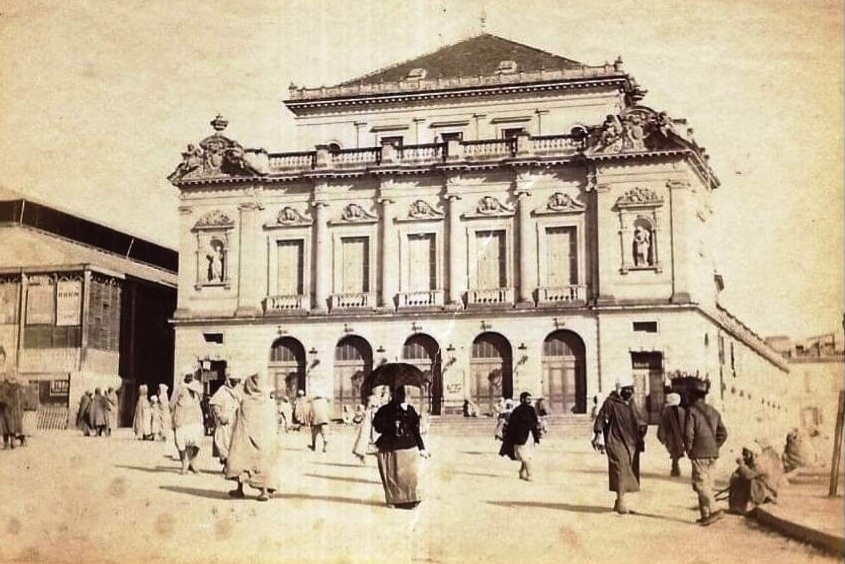 A school for generations
Actor Chaker Boulemdaïs, a Constantine native, is one of alumni of the city's regional theater. He started his career with the "Ahl El Masrah" troupe where he played his first parts before joining Constantine's regional theater. He starred there in various roles and plays such as "El Adjouad" in 2011 and "Nissa El Madina" in 2014. He can be considered as a heir of the generations that built the glory of Constantine's regional theater and made Algerian history in that art form.
On the history of theater in Constantine, the art has for long periods of time enjoyed a special place. Greek troupes from Rhodes used to visit and perform in "Cirta" under Massinissa's rule. Theater also become a symbol of resistance and political activism under colonialism, as well as a way of raising awareness used by many Algerian thinkers in their writings, such as Ahmed REda Houhou, Kateb Yacine and others, in addition to actors like Kaci El Kassantini, Achek Youcef Abderrahmane, El Houcine Ben Cheikh El Feggoune and others.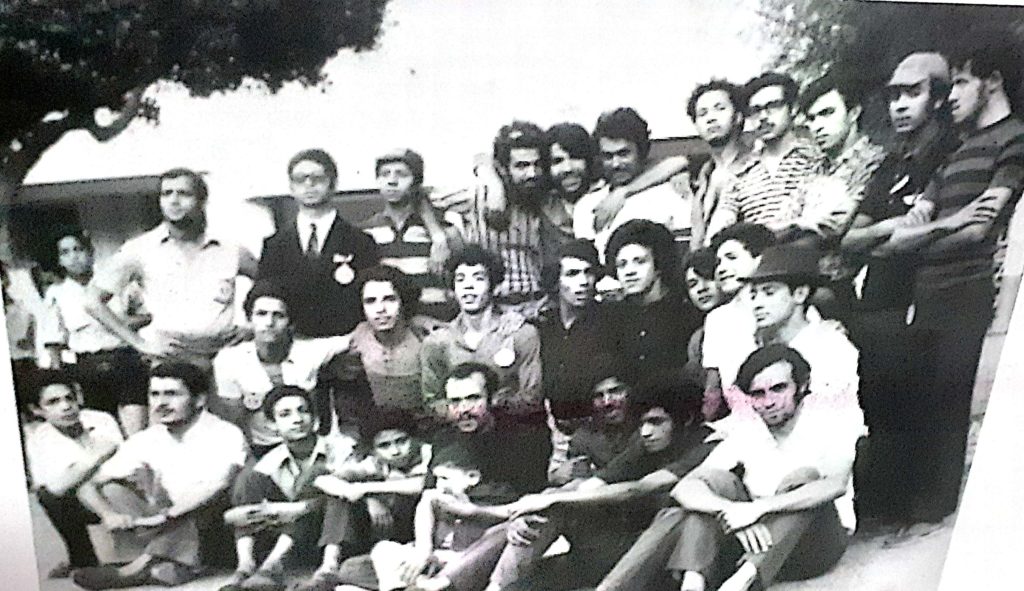 Following independence, many associations and amateur troupes appeared and formed a new generation which was able to leave a visible mark through many stage works. A professional troupe then emerged from those amateur groups and built a name for itself through 40 years of theater creations.
In 1965, the Regional Center for Cultural Animation (CRAC) was founded by the late Abdelhamid Habbati, Salim Mirabia, Abdelkader Melloul, Allaoua Wahbi and others. Many other current big theater and television names joined them, such as Antar Hellal, Djamel Dekkar, Aissa Reddaf, Abdellah Hamlaoui and others. This troupe produced 11 plays from 1966 to 1968, including "Madrassat El Keddabine" in 1966, "Charara fi El Kassab" in 1967 which won the first prize at the Mostaganem festival in 1968, "Khat Rajoul" and "Dhata yaoumin Ezzounoudj" which won the first prize at the cultural festival in COnstantine and the first prize at the Mostaganem festival in 1969.
The year 1968 saw the emergence of the Cultural Activism Group (GAC), which was founded by Abdellah Hamlaoui, Abdelhamid Boughaba, Rabah Zitouni, Salim Derbal and others. They were later joined by youngsters Chaabane Zouk, Hassan Boubrioua, Ali Aissaoui, Azouz Daara, Hassan Boulekhrouf, Djamel Mezaouri, Sami Ben Cheikh and others. The troupe made 15 plays from 1969 to 1987, including "El Infidjar" in 1969 which one the best male performance by Abdellah Hamlaoui at the Mostaganem festival in 1969, "El Moudja" in 1976 which win the great prize for best play at the Mostaganem festival, and "Ouyoune El Kalam" in 1987 which won the same prize.
In May 1974, the Workers' Theater troupe was founded. It included many actors, including: Mohamed habchi, Mohamed Tayeb Dehimi, Leila Boufnara, Azouz Nafir and others. The troupe produced 8 theatrical works between 1974 and 1989, including "El Hawat wa El Qasr".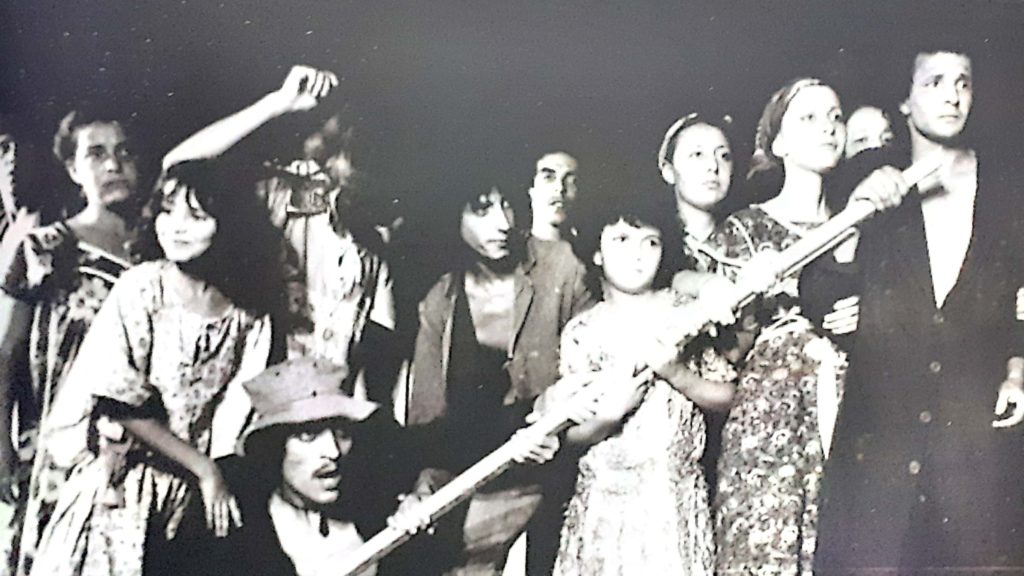 Other groups and associations also emerged, including "Layali Cirta", "Ahl El Fenn", "Masrah Ellil", The Cultural cooperative for arts, the El Beliri Association for Arts and Literature, and others.
In late 2019, the Constantine Theater initiative was proposed by Salah Eddine Milat, before the Regional Theater company adopted the idea. Most of the young artists in Constantine worked to make the idea a success, by giving their full experience and support to the new generation through a 3-year training. The first class of the school graduated in 2022 under the supervision of artist and trainer Adlene Bekkouche, and the second class in 2023 under the supervision of Abdennour Issad. The school students also benefited from training sessions with various artists from different regions of the country.
Historical works
Constantine's regional theater Mohamed Tahar Fergani has a rich history of theater works that saw the participation of great Algerian stage names and left a good impression, such as "Etmaa yfessed etbaa" which was produced by the Constantine and Annaba regional theaters under the stage direction of Sid Ahmed Agoumi in 1974, and casted Sonia, Amar Mouhsine, Mustapha Ayad and others.
"Rih el Mesmar" in 1979 was produced by the Constantine regional theater. The casting included: Antar Hellal, Abdelhamid Habbati, Amar Mouhsine, Allaoua Zermani, Fatima Helilou, Mohamed Tayeb Dehimi, Aissa Reddaf, Hassan Boubrioua, Yamina Djelloul.
The play "Ouyoune El Kalam", produced by the regional theater of Constantine in 1987, or "Edraouiche" in 1889, starring Antar Hellal, Aissa Reddaf, Fatima Helilou, Hassan Boubrioua, and others.
During the 1990s civil war, Constantine's theater did not stop production and its artists did not stop resistance and activism on the stage despite the difficult security, economic and social circumstances in the country during that time. The regional theater produced works that attracted anyone who held hope for a better future, such as "Diwane El Adjab" in 1990, "El Oughnia El Akhira" in 1993, "Khatt Erraml" in 1993, "Essayed El Wazir" in 1997, and others.
Millennials followed the path of their elders and protected their message through works like "El Ardha" in 2013, starring: Ahmed Hemamess, Chaker Boulemdaïs, Samia Tebbouche, Seif El Islam Bouker and Nawel Aouak.
The play "Nissa El Madina" in 2015 saw the participation of Chaker Boulemdaïs, Djamel Mezraoui, Nedjla Terrali, Mouni Boualem, Sabrina Boukeria and Ramzi Labiad. "Leilet Dem" by director Karim Boudechiche in 2016 casted Mohamed Delloum, Ramzi Labiad, Atika Bellazma, Hassan Boulekhrouf, Kamel Ferrad, Djamel Mezraoui, Oussama Boudechiche and Nedjla Terrali. The events of this play touched upon the effects of the civil war and the civil concord and national reconciliation laws.
"Ah Ya Lil" was directed by Haroun El Kilani in 2018, starring Ramzi Labiad, Lyes Attache, Yasmine Abbassi and others.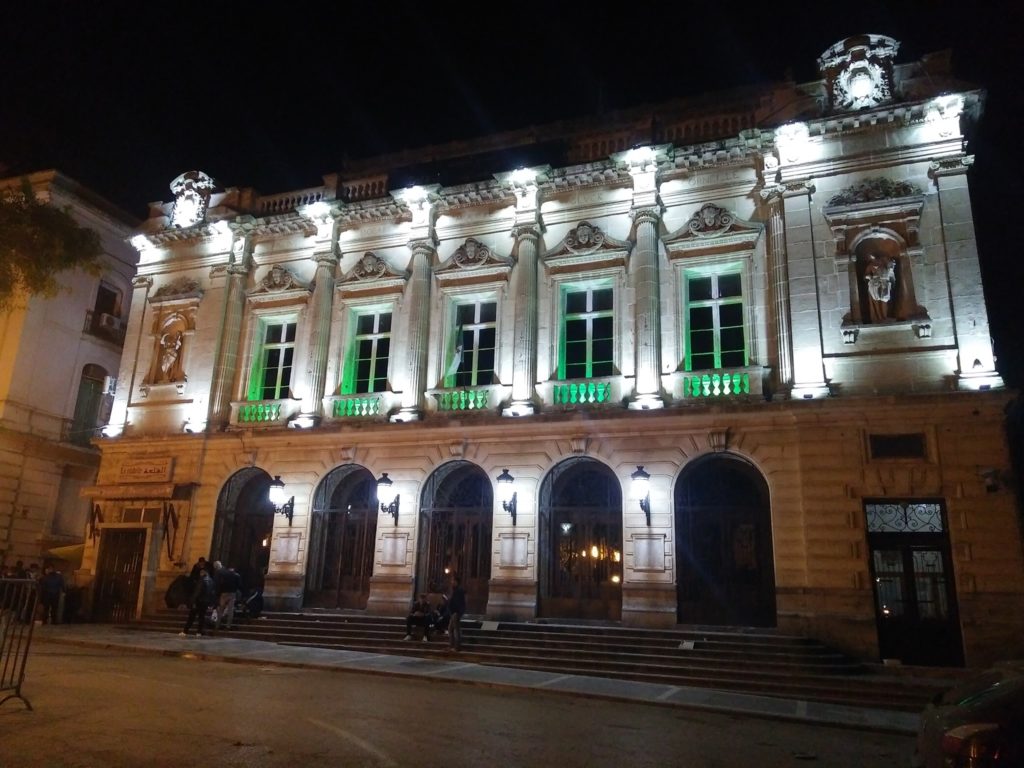 A magical wonder
The building of Constantine's regional theater Mohamed Tahar Fergani resembles the architecture of Italian Operas. It is unique in Algeria and North Africa and is still resisting time, 140 years after its opening.
The theater was built by French occupation and took 22 years to finish, from 1861 to October 6, 1883. It occupies 1568 square meters and contains a beautiful lobby, the walls of which are covered in posters of various plays and artists from different generations. It used to contain 5 huge chandeliers that disappeared in the 1970s, in addition to paintings that disappeared due to rainfall leakage which destroyed all artistic treasures in the building.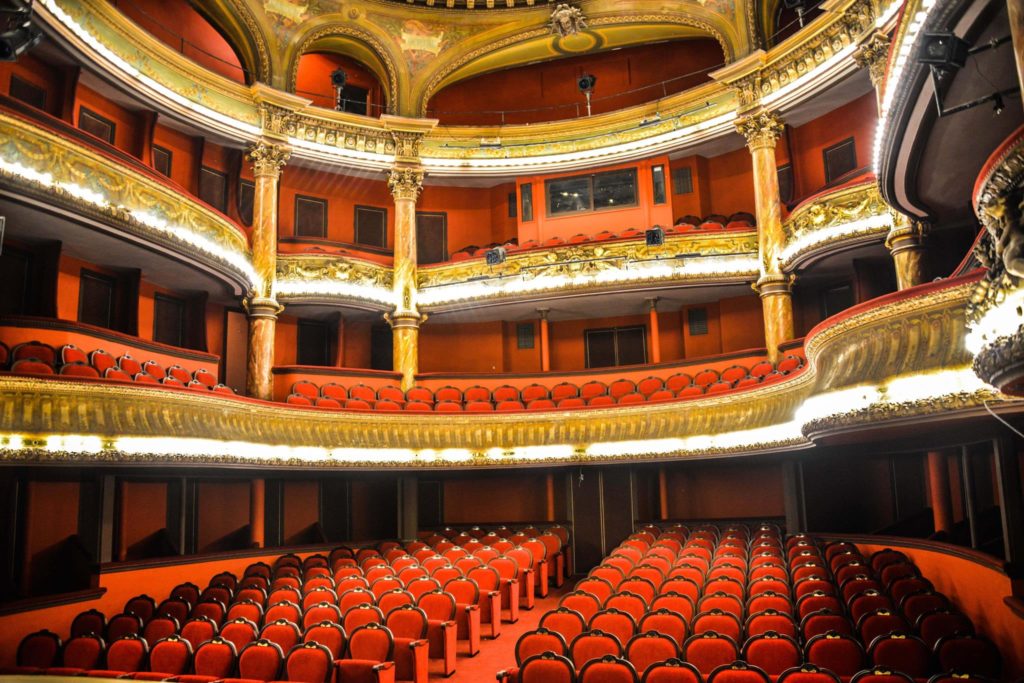 The main theater takes the shape of a horseshoe that distributes sound without needing sound systems. The room has 3 floors and can contain 450 people, while the stage is 8.2 meters wide and 16.4 meter long and has 3 upper stages and 3 lower stages.
The building witnessed 3 restoration operations. The first lasted from 1972 to 1974, the second between 2001 and 2002 and the last one from 2014 to 2015 during the "Constantine capital of Arab culture" festival.
The building of Constantine's regional theater is one of the oldest theaters in Algeria, it was classified as a historical landmark among cultural possessions in 2010.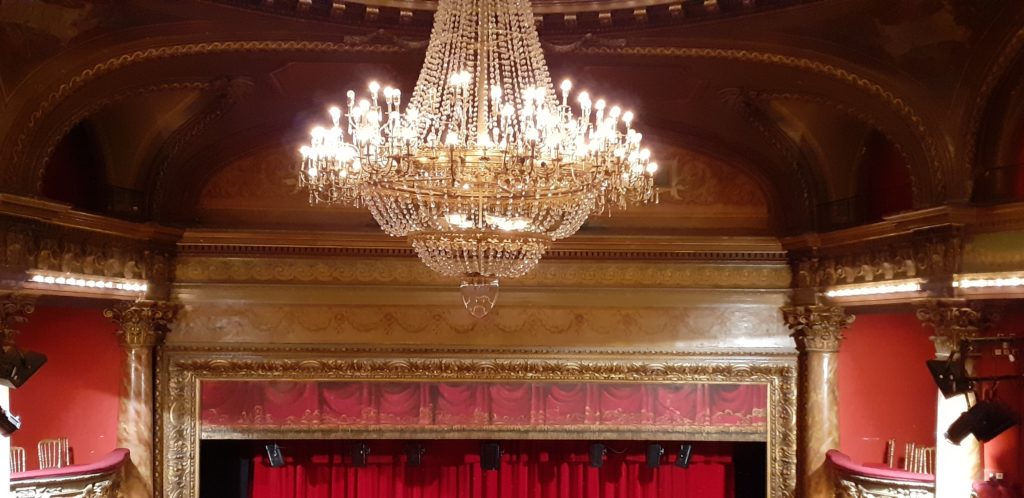 Constantine's regional theater has long been a destination for intellectuals and theater-loving rebels, as well as an artistic lighthouse that participated in all kinds of struggles throughout the years through its works. Despite all of this history, Constantine's theater is not living its best moments nowadays, due to bureaucracy, mismanagement and the lack of financial resources. It has thus entered what seems like a recession that transformed it from an edifice for free voices to shout on its stage to a place full of memories of those voices, now that almost all works became cyclical, with no soul or creativity. Constantine's theater public, as described by actor Sid Ahmed Agoumi, "a gauge for every artist because it has taste and is a great critic", used to fill the theater room to the brim during the years when theater had its weight and role.